Phelps resigns from House, citing personal health issues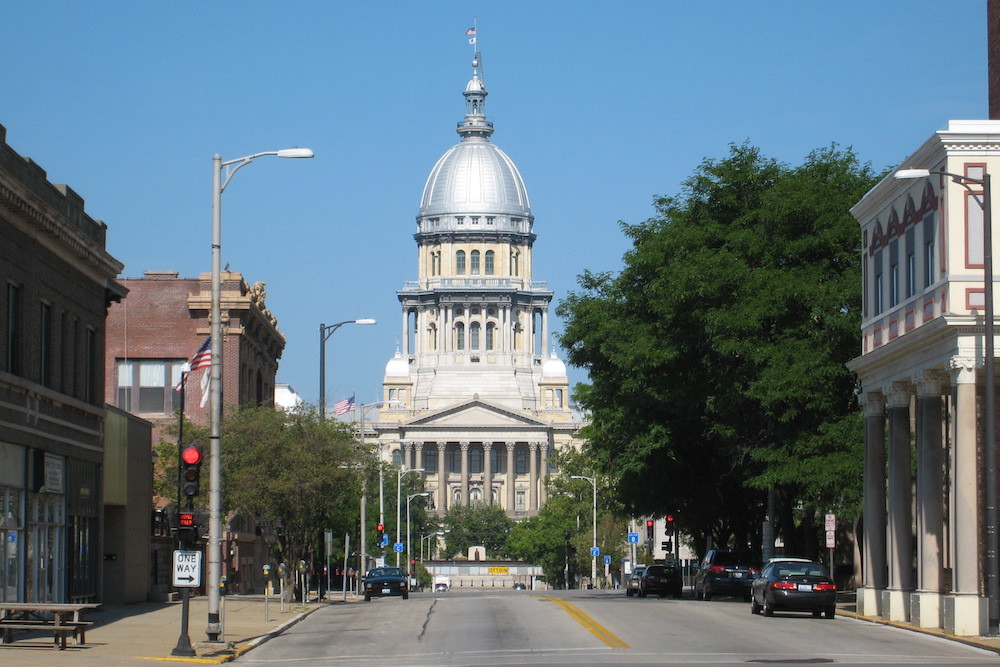 Springfield, Illinois | By Éovart Caçeir at English Wikipedia, CC BY-SA 3.0, https://commons.wikimedia.org/w/index.php?curid=10535377
With the resignation Sept. 1 of Rep. Brandon Phelps (D-Harrisburg), southern Illinois has lost its third longtime Democratic lawmaker in a year, with two other Democrats from the area failing in last year's election, according to the Southern Illinoisan.
In January, the paper noted that Phelps was the only Democrat in the area to fend off a challenger in the November 2016 election. The Republican candidate in that race, Jason Kaiser, did not receive as much financial support from the party as did Rep. Dave Severin (R-Benton) and Sen. Dale Fowler (R-Harrisburg).
Resigned Illinois House Rep. Brandon W. Phelps (D-Harrisburg)
The two Republicans ousted longtime legislators for the area: Rep. John Bradley (D-Marion) and Sen. Gary Forby (D-Benton), both of whom the GOP connected to House Speaker Michael Madigan (D-Chicago) in negative campaign advertisements, the Southern Illinoisan reported. Bradley served as assistant majority leader under Madigan, and the GOP worked to associate Forby with Madigan allegiances, as he served in a different chamber than the oft-maligned speaker.
In an election that saw Republicans align their opponents with Madigan criticisms and Democrats aligning opponents with criticisms of Gov. Bruce Rauner, Phelps was one of two Democratic legislators to emerge with a southern Illinois seat, alongside Rep. Jerry Costello II (D-Red Bud), who did not face a challenger, according to the Southern Illinoisan. Phelps would have faced Massac County State's Attorney Patrick Windhorst next year.
Until his resignation for health issues, Phelps represented the 118th District, which includes all or part of 11 counties, since 2003.
"It has been my honor to serve the people of the 118th District as their state representative," Phelps said in a statement. "I have worked to represent southern Illinois to the best of my ability."
According to a Southern Illinoisan report on his resignation, he chaired the Public Utilities Committee and served as vice chair of the Energy Committee. He was also on the Appropriations-Higher Education, Environment, Health Care Licenses and Labor & Commerce committees, as well as the Unemployment Insurance and Environmental Regulations subcommittees. A WSIL segment noted that Phelps is known for his contributions to getting Illinois' concealed carry act passed four years ago, an achievement that Phelps noted himself in his resignation.
"Together in bipartisan manner, we worked to pass concealed carry, protect our state's transportation funding, support our state's agriculture, save 911 services, and expand the use of coal, oil and gas for our region," Phelps said in his statement. "Since day one, I've given it everything I have, because our communities deserve a strong voice to speak up for our values and protect our way of life. Now in the interest of my personal health, it is my intention to step down."
Phelps injured his eye years ago in a hunting incident and has suffered lingering effects to his health, WSIL reported. The station noted that Phelps has been forced to miss time in the legislature in recent years.
"I want to thank all of those who worked alongside me, both in our communities and in our Capitol, as well as all my friends and loved ones," he said in his statement. "It has been my privilege to serve the people of the 118th District. My heart will always reside in southern Illinois."
Massac County Democratic Chairman Jeff Stafford told the Southern Illinoisan that the typical process for replacing a state representative is to have the district's county chairmen for the party meet with candidates to fill the role, then vote in a replacement.
Want to get notified whenever we write about any of these organizations ?
Next time we write about any of these organizations, we'll email you a link to the story. You may edit your settings or unsubscribe at any time.
Sign-up for Alerts
Organizations in this Story
Southern Illinois University Carbondale • Southern Illinoisan • The Southern Illinoisan
More News